There's a forlorn industrial area of Sacramento north of downtown dubbed the River District. It's been marked for revitalization, but in the meantime it's still largely filled with dusty streets and desolate warehouses. According to the city council member Jeff Harris, who represents the district, it's also the area where you can find around half of the city's homeless population. "At any given moment, there are around 500 homeless [people] there," he says. The industrial nature of the neighborhood also means that there are no public buildings—and no public buildings means no public restrooms.
The combination of a significant homeless population and a lack of bathroom facilities available for their use has meant a large amount of waste on the River District's streets. Human feces and used needles are routine sights. Lisa Culp, executive director of Women's Empowerment, an organization in the district that helps homeless women get jobs and housing, told City Council that her staff would spend the first hour of every day cleaning excrement, needles, and toilet paper from the area around their building.
Until recently, that is. This past June, Harris spearheaded a six-month pilot project called Pit Stop that put a portable bathroom for the homeless population at a River District intersection close to organizations that serve them, such as Women's Empowerment. A truck brings the three-stall unit to the location every day at 8 a.m. and hauls it away at 6 p.m. Two attendants staff the bathroom, which also functions as a collection site for needles and dog waste.
Culp says that since the program began, she and her staff have seen a 90 percent decrease in the amount of waste around their building. City statistics support her anecdotal evidence. In the first four months of the project, people used the facility more than 9,000 times, and over 600 used needles were collected.
The response from the area's homeless has also been positive. One homeless man expressed his approval of Pit Stop to the Sacramento Bee: "A lot of people go on the sidewalk and in the street. It's disgusting. It's not because they want to be disgusting. It's because there is nowhere to go."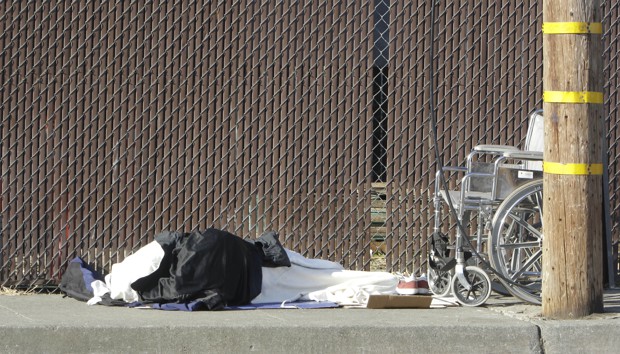 The pilot program has cost the city close to $175,000: $75,000 more than was budgeted. As a result, the city council has agreed to explore less expensive ways of maintaining the project, such as partnering with organizations in the River District to use their existing restrooms.
Those involved in running the program agree that one aspect of it should remain unchanged: the use of attendants. Projects similar to Pit Stop—such as Pit Stop of San Francisco, which inspired it—attribute their success to the use of paid monitors. Without their presence, there's a higher chance of deterioration, vandalism, and illicit activities. Indeed, a number of Sacramento's unattended public restrooms have been closed due to these issues.
Even more important is the attendants' role as a point of contact for the homeless community. Many attendants are parolees or have experienced homelessness themselves, and they're able to establish a rapport with the facility's users. Herman Coleman, a Pit Stop monitor, told Capital Public Radio, "The [homeless] need a lot of assistance, a lot of help, and a lot of compassion and that's what Pit Stop is about…Not to look down on anyone but to try to help bring themselves up."
Forming a connection with someone like Coleman, Harris says, can bring a homeless person reluctant to accept help around to the idea. "Every time a service-resistant homeless person has an encounter that's safe and sane, it brings them a little closer to the idea of accepting services and changing their lives," he says. Emily Halcon, Sacramento's Homeless Services Coordinator, adds that this is the larger goal of Pit Stop. "The more touch points we have," she says, "the more people are able to be successful in ending their homelessness, which is our end goal."
Most of Sacramento's funding for the homeless goes towards programs with longer-term objectives, such as "rapid rehousing," in which those in need receive rental subsidies for a number of months until they're able to pay on their own. "Pit Stop addresses a short-term, urgent crisis," Halcon says. "The idea is that it's a type of program that will no longer be necessary in the future."
But while housing initiatives play out more slowly, programs like Pit Stop can grant a daily dose of dignity to a population that's often shunned. "There's no job harder in this world than living outdoors," Harris said at a November 2016 City Council meeting. "The lack of safety, hygiene, warmth, and creature comforts—it's extraordinarily difficult. Creating a scenario in which a person can relieve themselves in cleanliness and safety is a very big deal."