In the few short months that I've lived in Crown Heights, Brooklyn, two new bars have opened within a block of my apartment. The neighborhood, once notorious for violent crime, is in the midst of what The New York Timesdescribes as a "renaissance." New restaurants, cafés, and boutiques draw people from all over the borough, mostly to one street: Franklin Avenue.
"The shopping and commercial activity on a street, whether it's done by locals or not, really defines how we understand the changes taking place in a neighborhood," says Phil Kasinitz, a sociology professor at the CUNY Graduate Center. Kasinitz, along with Sharon Zukin of the CUNY Graduate Center and Xiangming Chen of Trinity College, is the author of the new book Global Cities, Local Streets: Everyday Diversity from New York to Shanghai (Routledge, $32).
In the book, the authors examine 12 shopping streets in six cities—New York, Shanghai, Tokyo, Amsterdam, Berlin, and Toronto—to demonstrate how global and cultural shifts play out in local enclaves.The authors discovered patterns across the sites: chain stores invading shopping streets at the expense of mom-and-pops; bars, coffee shops, and art galleries cropping up as harbingers of what the authors call "gentrification by hipsters"; immigrants from around the world establishing small businesses in neighborhoods where they may not live, creating a "super-diversity" that reflects and informs shifts taking hold in cities.
Change at the neighborhood level, Kasinitz says, is often quantified through residential data. But it's local shopping streets, Zukin adds, that function "as the public face of communities." In Global Cities, Local Streets, the authors argue that these streets are essential for cities' character.
CityLab caught up with Kasinitz and Zukin to discuss shopping streets and how communities should preserve them.
What did you look for in selecting the streets to research for the book? What purpose do they serve?
ZUKIN: We were searching for streets that were important in terms of neighborhood identity, but weren't central business corridors or necessarily well-known on a broader scale. These are normal, local marketplaces, surrounded by residential areas, where people supply themselves with the everyday necessities of life. In New York, we chose Orchard Street on the Lower East Side, which has a tradition of small-scale bargain shopping, over, say, Fifth Avenue. In the book, we quote a passage from E.B. White's Here is New York, where he describes the city as a patchwork of neighborhoods, marked by the repetition of these local shopping streets. It's a beautiful way of representing what feels like the soul of any big city: this village-like nature. Local shopping streets enable interactions between strangers; it's a respite from some of the alienation and anonymity of the city.
One of the main points you make throughout the book is how, despite their local specificity, these streets reflect globalization. How so?
KASINITZ: In big, modern cities, local shopping streets, when they work well, strike a balance between neighbors and strangers. They're cosmopolitan spaces. In working with colleagues all over the world on this book, it was surprising to learn that the owners of small shops on local streets are usually outsiders in some sense: they're often ethnic minorities, immigrants, or out-of-towners. They may not live in the area themselves, but they become the pillars of the neighborhood because they spend more of their waking hours there than many of the residents do.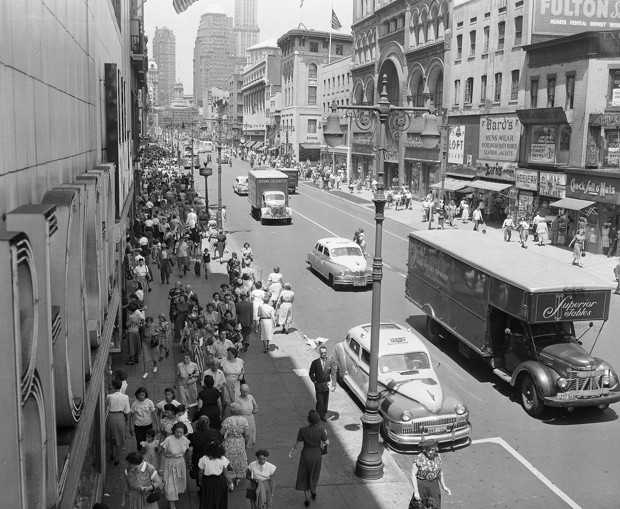 Small businesses are often under threat in cities. What's at stake for neighborhoods if these local streets are not sustained?
KASINITZ: It's a story you hear over and over again: In major cities that are growing increasingly expensive, landlords will raise the rents dramatically at the end of long leases, forcing out mom-and-pop tenants because they know they can make more money by brining in a chain store, like a Starbucks or a Duane Reade. But if everyone's thinking along those lines, then the street becomes homogenous—there's no reason to come back to it anymore. It's the greater-fool theory at work. Right now, huge rent increases encourage instability, which means that landlords will continue to charge more to factor in a period of vacancy every few years. When people hear commercial rent regulation, they compare it to the residential system and freak out, but there has to be a way for cities to discourage massive rent increases and diminish the turnover of small businesses.
What other steps can cities take to preserve local shopping streets?
KASINITZ: You don't want to preserve the streets like a fly in amber. We're not advocating that every mom-and-pop be granted some landmark status that can't be changed; cities are functional, living things, and local streets respond to that.
ZUKIN: You can't just host a "shop local" campaign to raise awareness about the need for these businesses. There has to be conversation between stakeholders and city council members, in all places across the globe, to discuss legal solutions that are both constitutional and effective. In many places, you can't prohibit certain kinds of businesses, like chain stores, from opening, but the size of a store can be legislated. Keeping the scale of shops on these streets physically small and economically small is something that can be done—the Manhattan borough president, Gail Brewer, limited the size of storefronts along Amsterdam Avenue to effectively stop big banks from taking over.
And there also needs to be consideration for the factors that sustain the diversity of these streets—class, race, and immigration. If cities continue to permit these expensive changes on local streets, they'll shut out immigrant entrepreneurship and abet the upscaling of neighborhoods to benefit only more affluent people. In many cities, demographic shifts along the shopping street don't align with the residential population. City governments could offer apprenticeship systems or financial support to potential owners, who could oversee the next generation of small businesses serving local communities.
Do you think that local shopping streets will continue to survive in major cities?
ZUKIN: At least in the United States, we have an advantage: we've gone over the hump of modernization. We've had supermarkets, we've had transnational chains, and we've started to move away from completely embracing those models. Now, I think there's a growing culture of appreciation for specificity; people are again seeing the value of small shops.
Global Cities, Local Streets, $32 at Amazon.