The alley is dark no longer.
In the United States, these almost-accidental spaces between buildings have existed in a sort of limbo: not quite streets, but still thoroughfares; not private, but not public enough to feel protected; backdrops to crime, or filled with trash heaps.
But as cities grow increasingly strapped for space, neglecting these narrow streets is no longer a viable option. Cities from Los Angeles to Baltimore to Seattle are rethinking their alleyways and transforming dead ends into into places of connectivity and productivity.
A brief history of alleys
In other parts of the world, the size or location of a thoroughfare did not dictate its utility in the same way it did in the U.S. Daniel Toole, an architect and blogger at Alleys of Seattle, previously told CityLab that in European cities like Paris, Rome, and Barcelona, beautiful alleys are vital pedestrian passageways. In Kyoto and Melbourne, they're retail hubs.
Even the names alleys are called around the world, Toole said, suggests their different functions: in Japan, they're calledroji, or "little street"; in Australia, they're "laneways," suggesting, to Toole, a more pedestrian-friendly figuration.
However, in America, Toole said, alleyways were specifically set aside as infrastructure. Originally conceived as service access to buildings, they were a place to conduct activities considered unfit for the main street—hence today's association with garbage collection. "It's really messy," Toole said. Imagine loading docks for construction, piled-up trash, exposed gas conduits.
The case for transformation
For places that were meant to be unseen, alleys take up a not-insubstantial amount of space. A 2011 report by Mary Fialko and Jennifer Hampton, graduate students at the University of Washington*, found that in Seattle, there are 217,000 square feet of public alley space downtown, 85 percent of which are underused. The report estimated that reinvigorating alleyways could increase the number of total public space in the city by 50 percent.
Alleys, too, are vital players in a city's overall ecosystem. As the need for cities to rely on more sustainable approaches has become more pressing, the proliferation of trash and flooding in alleyways has come to be seen not only an aesthetic blight, but an environmental one.
And as Daniel Freedman of the Los Angeles Sustainability Collaborative says, there's a lot of crossover between sound environmental practices and livability. Revitalizing an alleyway creates an opportunity to introduce green infrastructure, but also, Freedman says, it invites the surrounding community to collaborate on improvements and make use of the space.
Across the U.S., cities' approaches to their alleyways have been varied and specific; at their core, however, are fundamental practices that can be considered and applied universally.
The "green alley" approach
In 2006, Chicago took stock of its 13,000 alleys—among the country's vastest—and saw a problem. Decades previously, most of the city's 3,500 acres of alleys were paved with impermeable asphalt or concrete, and stormwater drained through grates at the center. As those systems fell into disrepair through lack of maintenance, flooding became commonplace.
In response, the city pioneered the Chicago Green Alley Program, among the first in the United States to bring sustainable building practices to a network of alleyways. According to Gizmodo, over 100 of the city's alleys have since beencovered with permeable surfaces that redirect stormwater into the ground and away from Chicago's "overtaxed" sewer system, reducing flooding and recharging the surrounding soil.
A privately funded initiative in Detroit has taken a similar approach. Peggy Brennan of the Green Garage told Gizmodo that Detroit's resulting Green Alley incorporates permeable surfaces and gardening space, and has transformed a space once filled with mattresses and hypodermic needles into a community gathering place.
Los Angeles expects that a new network of green alleyways will help the city meet its goal of increasing stormwater capture to 50 billion gallons by 2035; currently, the city saves 8.8 billion gallons annually, The New York Timesreported. The newest alley in the network centered in the city's South Park neighborhood is projected to capture 700,000 gallons per year.
Making space for the community
In Baltimore, the issue was trash. Leanna Wetmore, the community coordinator for the Baltimore Waterfront Parternership's Healthy Harbor Initiative, had been trying to figure out a way to engage the local communities in her organization's goal of having a fishable waterway. "But it's hard to talk to people about clean water in our city, when there are a million other important issues," Wetmore says.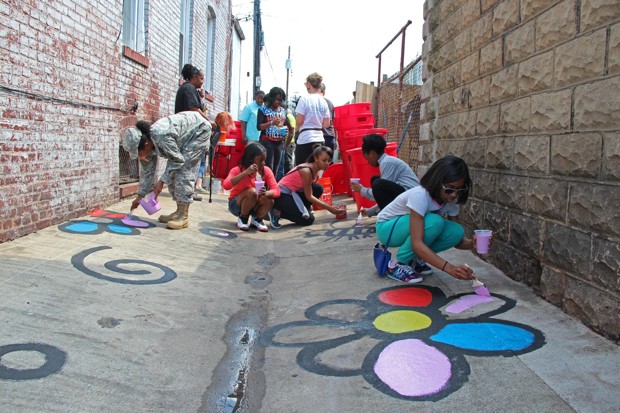 So she decided to focus on the garbage pileup in neighborhood alleys. The trash that piles up there filters down through the storm drains and into the harbor; getting the community on board with getting rid of the trash, Wetmore thought, would bring people together and start to free up the water. The Healthy Harbor Initiative's Alley Makeover Program brings communities together to clean up their alleyways, then implement some "small, cheap improvements that reset people's expectations of what an alleyway can be," Wetmore says. Through a $30,000 grant from the Rauch Foundation, 20 alleyways in six neighborhoods are now covered in murals and artwork; they're filled with block parties and cleared of trash.
Seattle decided in 2008 to clear its alleys of dumpsters, moving instead to a trash-bag collection model of waste management. The same year, theInternational Sustainability Institute (ISI), based in Seattle's Pioneer Square neighborhood, partnered with Gehl Architects on a survey of downtown Seattle's public spaces, which identified the newly dumpster-free alleys of Pioneer Square as a a potential asset. Pioneer Square, says Liz Stenning, the public realm director for the Alliance for Pioneer Square, had fallen on hard times: it was mostly devoid of retail, office workers left after closing hours, and the streets were quiet.
Inspired by the feedback from the Gehl report, ISI cleaned up the alley adjacent to its office, and hosted a party. It was a rainy night, Stenning says, and the festivities weren't much more than a local musician and some folding chairs, but people stayed. Since then, ISI has partnered with Stenning's organization, the Alliance for Pioneer Square, to revitalize alleyways throughout the neighborhood; they now play host to anything from projecting World Cup games from the back of a U-Haul truck, to cat adoptions, to revolving art installations. "We were just trying to do things that change people's perspective on being in an alley," Stenning says.
The next frontier for retail
It wasn't long before local businesses caught on. In Pioneer Square, Back Alley Bike Repair opened its doors in 2011 onto the 700-square-foot Nord Alley; independent restaurants have moved in and capitalized on the 15 or so revitalized passageways as outdoor seating areas.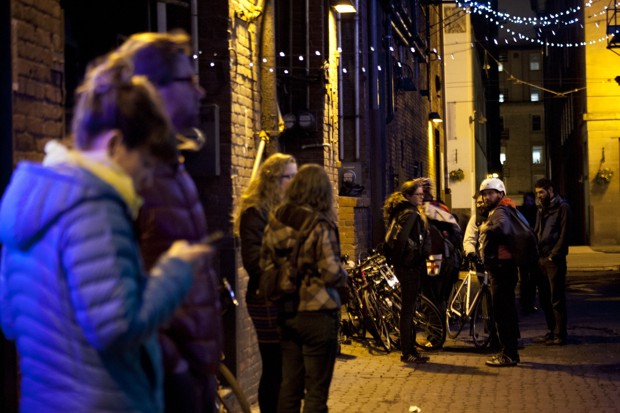 When it opened in 2012, the East Cahuenga Alley in Los Angeles swiftly drew crowds. The brainchild of a member of the Hollywood Business Improvement District, the plan for the lane—once known as "Heroin Alley"—re-imagined it as a pedestrian space filled with outdoor dining and an artists' market on Sundays. The Los Angeles Sustainability Collaborative compiled an extensive report on the space, Freedman says, to "put a spotlight on what happened in one community, to show what could be possible for others."
Though Freedman's organization focuses primarily on the Los Angeles area, the success of the East Cahuenga Alley model has radiated out to other cities. The Z Block office and retail development is slated to open in Lower Downtown Denver next year; the developer on the project told The Denver Post that the alley bisecting the site was as much a focus as the buildings themselves. While previous alley activations in Denver were limited to one-offs, the Z Block alley will play permanent host to a distiller, a chocolatier, a coffee-bean roaster, and an ice-cream shop, all of which will open out onto the small street.
Historically, Freedman says, urban alleyways were often places of dangers or sources of shame. But in the places where these spaces have been revitalized and repurposed, there's a particular delight in their new use. The success of these projects, Freedman says, "shows how it's possible to take a space that was once a liability, and turn it into a resource."