When you're a hammer, everything looks like a nail. And when you're a traffic engineer, it seems, everything looks like a highway.
If traffic engineers did not control the design of so many of our public spaces, this might not be a problem. But they do—and that's especially true here in the U.S. Even when traffic engineers have the best intentions, too many simply lack the tools to make successful places. In the typical American city, asking a traffic engineer to design a walkable street is like asking a hammer to insert a screw.
In my last article for CityLab, 18 months ago, I wrote about over-wide driving lanes, and how they encourage speeding and make our streets more deadly. That piece, others like it, and the labors of many have helped to bring about a change in the way that U.S. engineers think about lane widths. While the war is by no means won, many transportation departments are beginning to accept narrower standards. The profession had shown itself capable of reform.
This gives me hope, and prompts me to take the conversation to a higher level. What is the next urgent battle to be fought in the name of more walkable, livable streets and communities? So many things come to mind: the value of trees, the need for parallel parking to protect the sidewalk, the epidemic of unnecessary traffic signals, the mandate for truly buffered bike lanes. . . the list goes on. But what if there were one category that managed to include all the others?
I believe there is, and it goes like this: models matter.
In other words, pay attention to precedent. So, you're designing a street? Great! What street do you want it to be like? Does it look like that street? Not really? Why not? Where is there a street like the one you just drew? Is it any good?
Sounds obvious enough, right? Then why does it seem to happen so rarely? Are plans that hard to read? Why is it that engineers, planners, citizens, and the media all regularly don't ask these questions?
Case in point: consider this recent example from Lowell, Massachusetts, a city with a great history of urban wisdom. Thanks to several decades of pro-planning public servants and a great non-profit called The Lowell Plan, the city has reinvented itself as a smaller, less expensive Boston, a place that now attracts residents and businesses to its great urbanism, focus on higher education, and commitment to historic preservation and the arts. Its once-abandoned downtown mills are now full of middle-class lofts, and a third wave of redevelopment is well underway.
Lowell is a city I know intimately, having lived there for some time in 2010 as I completed an "evolution plan" for the downtown. That plan is now being implemented and has, among other things, reverted a confusing and speedy network of one-way streets back to calmer two-way traffic. Lowell is a city that gets things done.
Imagine my surprise, then, when I came across an article earlier this month about the city's plans for its southern gateway, the Lord Overpass. This site is particularly important to Lowell, being an area of major redevelopment as well as the key link from the train station (at right in the image below) to downtown (beyond the canal to the left). This collection of streets—a squared traffic circle floating above a highway—is due for reconstruction, and the city came up with the smart idea of putting the depressed highway back up at grade to create more of an urban boulevard condition.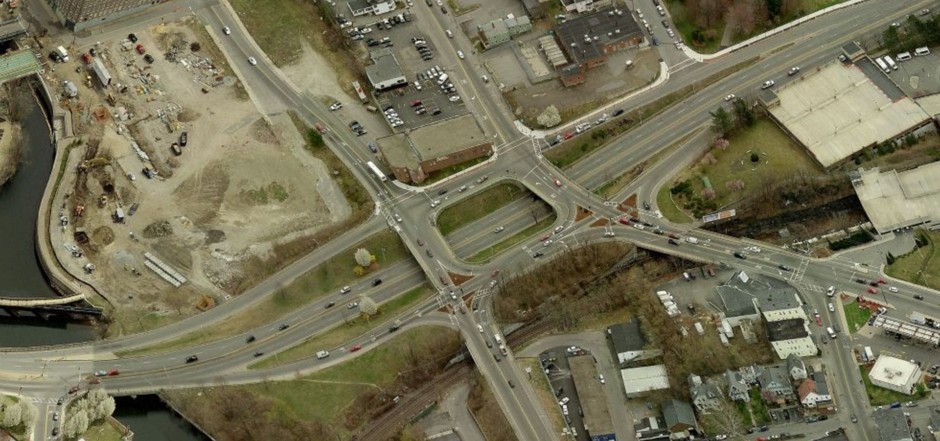 At the level of intention, this seemed a wise plan. It is hard to find a pleasant urban place with two levels of streets, unless the lower level is completely hidden, and it was beyond the budget here to fully cap the highway. There are many good examples of surface boulevards that handle as much traffic as this section of road does, and replacing highways with boulevards is something that U.S. cities know how to do at this point. It turned out that, for the $15 million price tag of rebuilding the bridges, the city could just as easily truck in enough dirt to fill the hole. So far, so good.
But then came the plan, and my reason for writing this article. Picture in your mind a classic large urban street, one that will attract pedestrians while also moving a lot of traffic.  Perhaps you are imagining Paris's Avenue Marceau, Barcelona's Passeig de Gràcia, or Washington's K Street? Now look at the image below.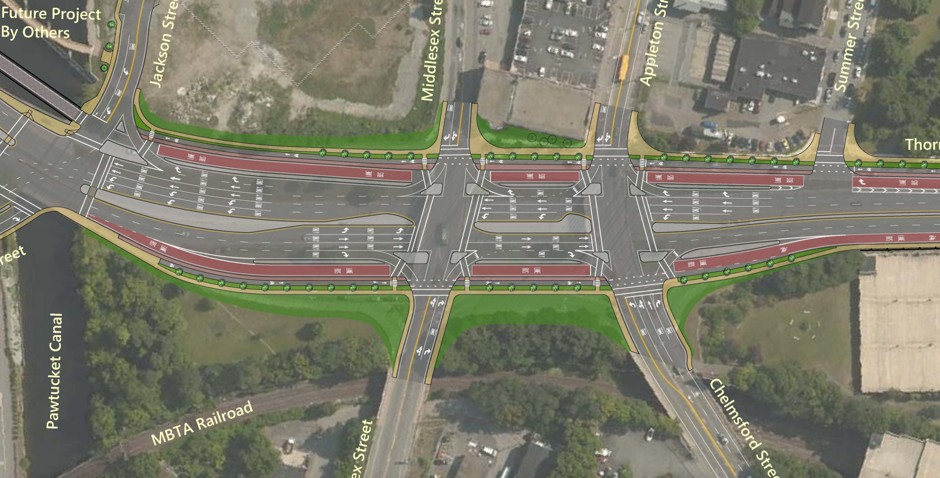 Not quite what you had in mind? Yeah, me neither. I have to reach the conclusion that the distinctions between the two models of boulevard and highway are actually more subtle than I am suggesting, because this drawing was created by a skilled engineering team, embraced by the City Council, local non-profits, and newspaper, and presented this month to resounding applause from neighborhood residents.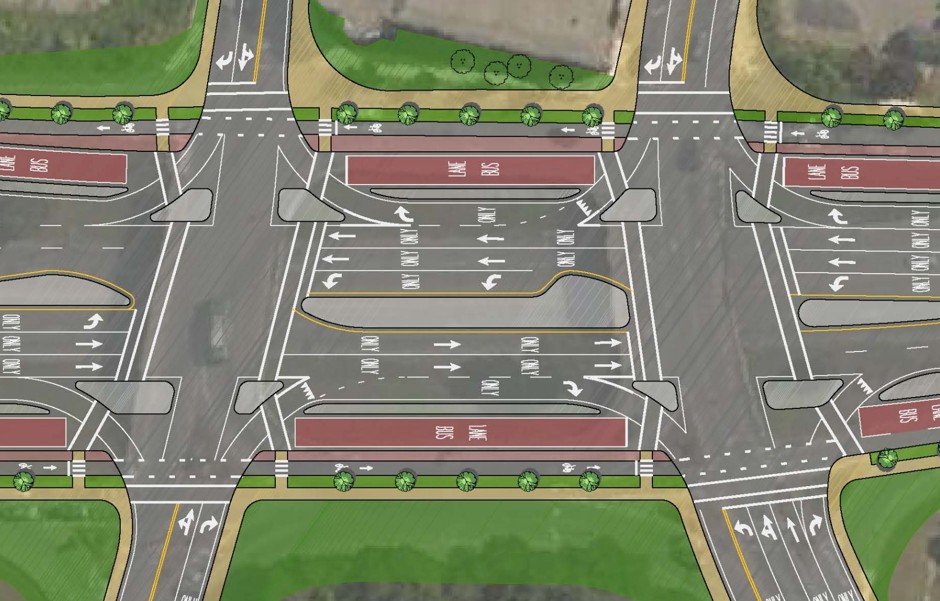 So, let's zoom in and describe what we see:
Four lanes dedicated to motion straight through, just like the now-submerged highway;
Three lanes dedicated to turning motions, two of which swoop around the edges in great curves;
Two dedicated bus lanes, each about 17 feet wide, curb-to-curb. (A bus is 8 1/2 feet wide, so perhaps the goal is to squeeze two past each other?);
Bike lanes that are partly protected, partly unprotected, and partly merged into the bus lanes;
A collection of treeless concrete wedges, medians, and "pork chops" directing the flow of vehicles;
No parallel parking on either the main road or any of the roads intersecting it; and
Green swales lining the streets, resulting in set-back properties to the one side and open space to the other. (Note that the open space at the bottom of the drawing is too shallow to put a building on.)
Not listed above, but perhaps of the greatest concern, is the issue of precedent. While there exist a growing number of locations in America with street configurations like this one, it is impossible to name one with street life. Swoopy configurations like this design are found mostly in suburban drive-only locations out by the mall, not in cities. If no attractive place can be found with a similar configuration, then a design should not pass the street-planning smell test.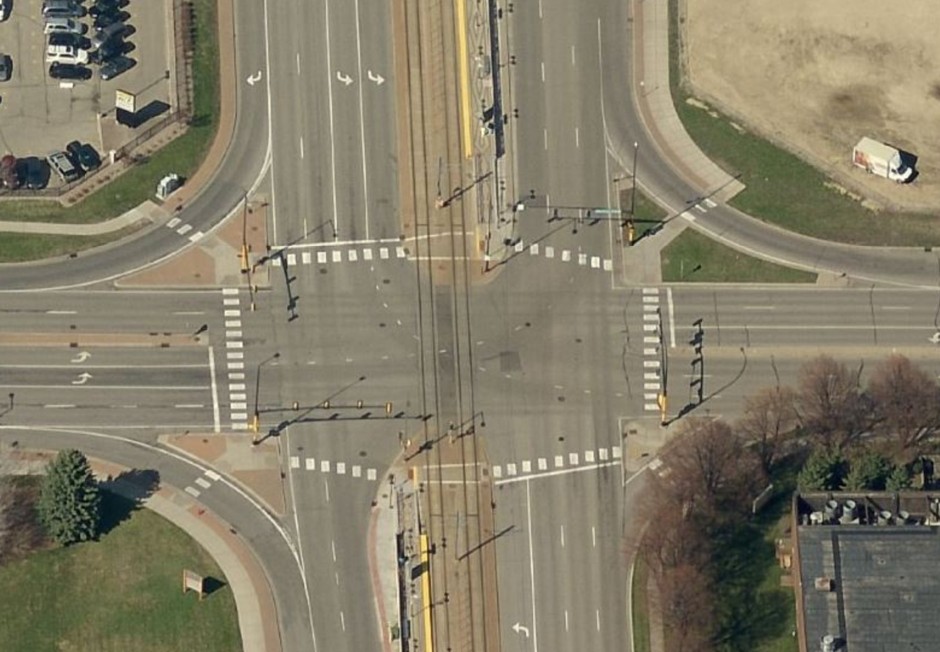 The comparison of drive-only suburbia with walkable cities then allows us to make this critique of the approved plan:
Walkable streets do not have swoops, slip lanes, pork chops, and other features that encourage drivers to make fast turns;
Walkable streets have narrow lanes, typically 10 feet wide—even for buses;
Walkable streets place continuous shade trees in any medians;
Walkable streets have parallel parking along every curb, to protect pedestrians (and potentially bikes) from moving traffic; and
Walkable streets are lined by buildings that give them life, and in urban locations these buildings are tall and sit directly against the sidewalk.
All of the above criteria, in addition to making pedestrians feel welcome, contribute to an environment in which cars drive more safely. Students of urban form will recognize that they all come from studying the proper model, the classic boulevard.
If the goal is to move lots of traffic in a walkable urban environment, there is only one time-tested model. As so well described in The Boulevard Book by Alan Jacobs, all successful boulevards follow certain rules, including those above. Since we know that proper boulevards make successful places, a respect for precedent gives us clear direction here.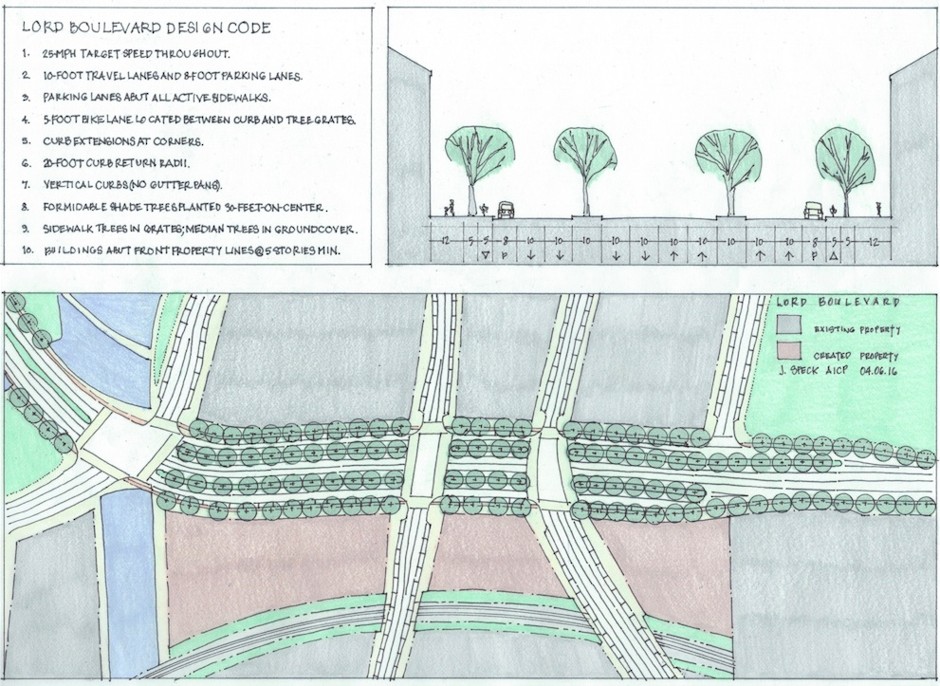 So, what would this stretch of road look like as a boulevard? I took a stab at it above. To satisfy the car counters—because they always win—I even added a lane, to match the current condition. This proposal, one of many possible solutions, includes a 4-lane, high-volume center flanked by two 2-lane side roads. One of the lanes on each side can be dedicated to buses, if so desired. Each side road is flanked by parallel parking, and protected bike lanes are placed in the outer edge of the sidewalk, European style. All intersecting streets maintain parallel parking on both sides, and corners are tight, with no swoops. Street trees fill both medians, aligned with the trees in the sidewalks.
Nothing is wider than it needs to be, and the whole facility hugs the properties to one side, with no swales or setbacks. This leads to something surprising: free land. Three large and valuable building sites are now available in what is planned to remain wasted space alongside the railroad. This is great news, for two reasons. First, because the sale of this land—more than an acre of prime real estate—can be used to defray the costs of the project. Second, because a street is only as good as its edges. Without the spatial definition, activity, and supervision provided by buildings against the sidewalk, a boulevard is not complete.
This design was done quickly and could no doubt be improved. It is presented with the confidence that it follows a well-established model, and its outcomes can be predicted.  Sadly, the current proposal that it hopes to replace also follows a well-established model, with predictable outcomes. These outcomes are a far cry from those currently anticipated by the good people of Lowell.
City planning is not just an art, but also a profession, and like in the professions of law or medicine, its practitioners have a responsibility to learn from past successes and failures.  Study of precedent makes it clear that boulevards create street life and enhance real estate value, while highways obliterate street life and sunder real estate value. It is not too late for Lowell to embrace a model that will transform this site from a place that is easy to get through to a place worth arriving at. Similarly, all of our cities, as they contemplate expensive reconstruction of obsolete roadways, have two models to choose from, one led by engineering, and another led by precedent: the study of places we love.