Not all urban planners or city governments agree on what kind of street designs are best. But one thing remains clear: Cities who want to plan for the future must prioritize transit accessibility.
To aid this process, the National Association of City Transportation Officials has devised a Transit Street Design Guide, which contains insights from 18 different transit agencies, as well as officials and practitioners in 45 North American cities.
The guide functions as a one-stop shop for designers, city planners, and all those interested in improving the safety and efficiency of their streets. While it serves as more of a toolbox than a prescriptive rule book, here are some of the main takeaways:
Separate transit from standard traffic. Both downtown streets and major corridors have the challenge of accommodating many different modes of transportation. One way to improve safety and efficiency in these high-density areas is to ensure that public transit remains separate from standard traffic. "Transit is often faced with automobile congestion at exactly the time when it needs to be running at the highest frequency and in the most reliable way," says Matthew Roe, the director of NACTO's Designing Cities Initiative. "By giving buses and trains their own space on the street, we can make transit work extremely well at exactly the times when people need it the most."
To help accomplish this, the guide recommends designating certain lanes as "transit only." According to Roe, the Bronx's Webster Avenue, along with many streets in San Francisco, are fitting examples of transit-only lanes that have improved both safety and travel times.
In those areas where buses and trams already share the street with cars, Roe says there are "a number of other treatments" that can reduce interactions between cars and transit, including boarding islands and in-lane stops. In Seattle, one-lane streets in each direction even allow bicycles to travel behind bus stops, thereby improving bus travel times.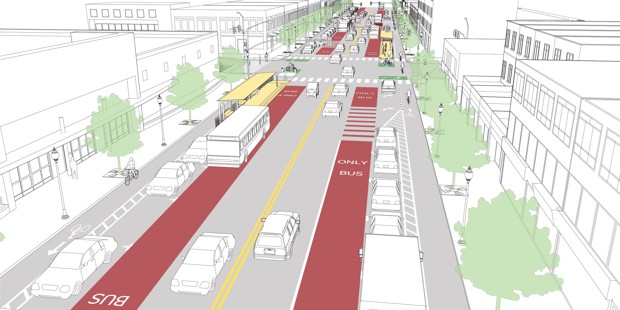 Don't forget about pedestrians. "All across the United States and the world, there are bus systems that run on streets that were not designed to be walkable," Roe tells CityLab. "It's critical that, as we strive to increase transit ridership, we examine how these major streets work for pedestrians." One way to accomplish this, according to the guide, is to increase the number of pedestrian crossings at intersections and shorten the distance between crossings. Along edgefront streets (those that run along waterfronts, parks, or campuses), for instance, there is little to no space for vehicles to cross on one side. This presents an opportunity to install extended transit lanes that separate pedestrians from car traffic, as shown in the image below.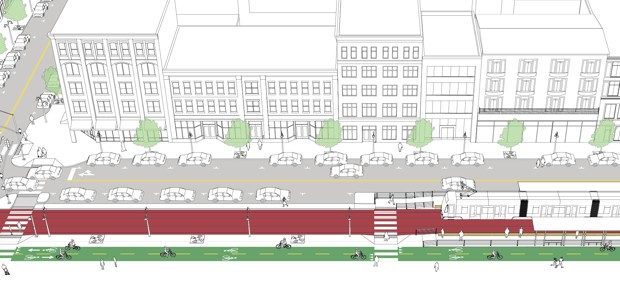 Maximize speed and efficiency. By allowing transit vehicles to pull up within two inches of the platform or side of the street, transit curbs have a huge impact on speed and efficiency. These curbs should be clearly marked, over six inches high, and can be either concave or rectangular (the design standard), according to the guide. If possible, they should also be tapered at the point of entry and exit to minimize boarding time. As an alternative, the guide suggests installing a rubber rail or plastic bumper to allow buses to hug the curb.
Another important measure for improving efficiency is to include contraflow transit lanes in a city's design plans. These lanes are designed for streets with one-way traffic, and are typically reserved for bicycles or buses. According to the guide, they allow for shorter travel times by reducing encounters with nearby traffic. A 1999 study from San Francisco's Department of Parking and Traffic confirms these findings by looking at the success of the first contraflow bus lane in downtown San Francisco. After examining four intersections at various times of day for an entire month, the authors found that buses along this lane saved up to 8 minutes in travel time after the lane was installed.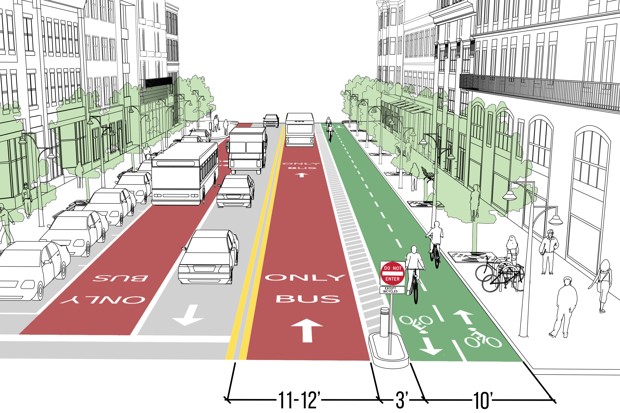 Prioritize design over the mode of transit. Despite controversies surrounding recently built streetcar systems, the guide focuses on creating the right designs rather than installing the right form of transit. "Whether it's a bus or a streetcar or full-scale light rail, what really matters is that transit gets the time and space it needs," says Roe, noting that the St. Charles Streetcar—the world's oldest continuously operating streetcar—is an essential part of the New Orleans transit network, and still boasts a hefty ridership.
Don't just design for downtown. "For a long time, a lot of cities have had transit networks that were designed primarily to give downtown office workers an alternative way to get to work besides taking a car," Roe says. "[But] when you look at cities like Houston that have redone their bus network to serve all the neighborhoods in the city, sometimes that means doing a grid rather than a hub-and-spoke model focused on downtown. When you do that kind of work and really examine where people are going, you find really large increases in ridership."
In addition to downtown areas, neighborhood streets face their own set of obstacles. While these streets only suffer from moderate pedestrian or bicycle traffic, their limited width and capacity make it difficult to accommodate a community's public transit needs. To address this, the guide recommends improving transit stops to include designated spaces for pick-up and drop-off, and installing "boarding bulbs"—or sidewalk extensions—so that buses can stay in their traffic lane without having to pull up to the curb. The guide also highlights the need for reasonably-priced curbside parking.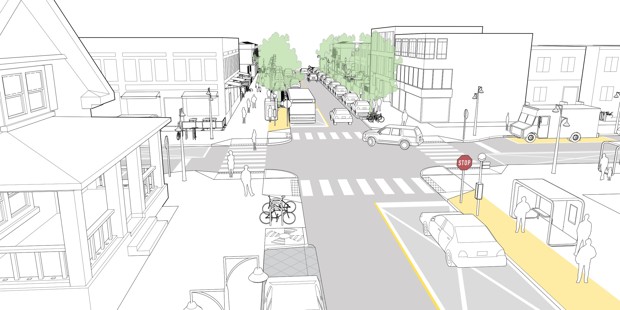 Make streets accessible for all. Already, the U.S. Access Board outlines various requirements for making streets accessible for wheelchair users. And yet Roe still finds that "there has been a significant gap in detailed guidance on how to make bus boarding wheelchair accessible in new configurations of streets." In addition to the basic standards developed by the Access Board, the guide outlines its own recommendations for designers and city planners.
"One of the critical things about accessibility is that there a lots of ways to make a bus stop or a rail stop accessible," Roe says. "When you strive for universal design and make a stop inherently accessible through its design, you can speed up the boarding process for everybody." A number of cities currently rely on ramps or low-floor or kneeling buses instead of outmoded lifts to provide wheelchair access. These small changes can make all the difference when it comes to speeding up the boarding process.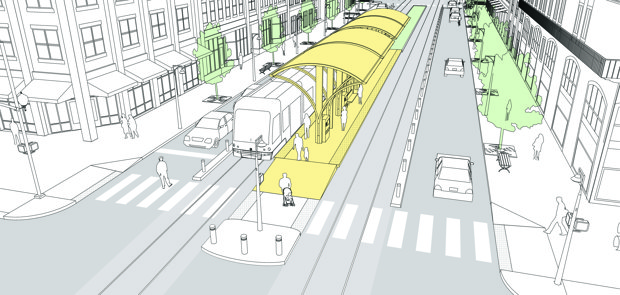 Emphasize sustainability. Green transitways, or large green areas along or between bus or rail tracks, are a cost-effective way to make an environmental impact, according to the guide. In addition to improving the aesthetics of a neighborhood, these planted areas also help to manage stormwater. One promising example is the Portland-Milwaukie Light Rail Transit Project, which created an "eco-track" to collect stormwater runoff and prevent it from entering the sewer system. Small initiatives like this can make a huge difference for cities today and well into the future.