Seattle's smart new plan to give tenants transit passes instead of parking spaces should help housing stay more affordable down the line. To get a sense just how much money renters might save, the city relied on a 2012 study of how parking impacts affordability from its neighbor in the Pacific Northwest, Portland. That work is striking for both its clarity and its conclusions, so let's took a closer look.
Portland's Bureau of Planning and Sustainability modeled what happens to unit prices when a building developer decides to include parking. A few specs if you're into that sort of thing: the sites were 10,000 square feet (so, about 4 stories tall), zoned for mixed-use (so, shops on the ground floor), with units averaging 550 square feet (so, depending on your persona, cozy or cramped).
The report looked at several types of parking, including a surface lot, podium (a partial cut of ground floor) style, mechanical lifts that maximize space, or underground parking. All are compared to a 50-unit development option with no parking at all. The low-end rents assume developers make a 7 percent profit on the project; the high-end assumes 10 percent.
Charting the data on cost, we can see rents climb as the parking options become more complex, and thus expensive for the developer. A low-end rent in a building with no parking comes to $800 a month. Rent in the same unit in a building with the cheapest parking option, surface spots, comes to $1,200—a 50 percent jump. In a building with underground parking, the low-end rent hits $1300, a spike of 62.5 percent.
Of course, more parking in a building doesn't just mean higher unit rents—it means fewer units, period. Below we chart the rental units that are sacrificed to various parking types. Again, in the no-parking scenario, a building can have all 50 possible units. This time the underground lot actually fares best among the parking options, since it preserves all but 3 units. The surface lot removes 20 potential homes—that on top of whatever commercial development space it might lose on the ground floor.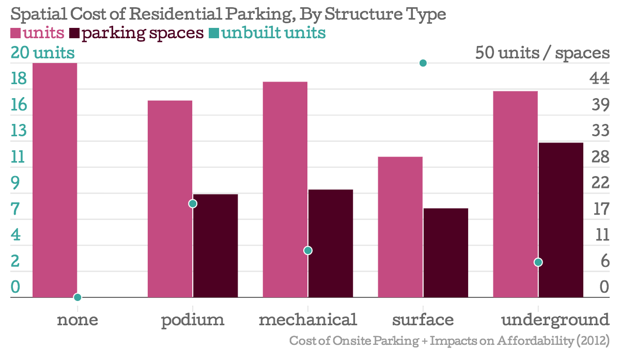 So we see how parking (especially surface parking) becomes a scourge on a city. Residential lots and spaces make individual units less and less affordable for tenants. They also result in fewer units as a whole, meaning the supply of housing across the city takes a hit. That too jacks up rents over time, as neighborhoods run out of sites to develop, and families run out of places to live.
For decades, cities have required developers to include parking as part of their building plans, a "minimum" standard that's only now starting to relax in places. That shift in focus does create new challenges: cities must find other places for parking (ideally, shared facilities), or better yet, craft programs that discourage residents from driving in the first place (like Seattle's). But for metros struggling to make housing more affordable, rethinking parking policy is a clear place to start.