There's no question that Generation Y loves the city, but demographers and urban planners can't help but wonder how long that love will last. Given their lower income relative to previous generations, many urban Millennials favor small-footprint living: studios, a few one bedrooms, some congregate housing, and micro-units. But what happens as they age and have family? Will the need for two or three bedrooms force them to the suburbs, or will cities create the types of family-oriented units to keep them in place?
Families need at least two bedrooms (and preferably more) to be comfortable. Ideally they would have separate (or semi-private) rooms for teenagers of different genders, or for relatives who come to visit. They want yards and access to safe places for their children to play. Many cities want to encourage the production of family-sized apartment units, but few two and three-bedroom apartment units are being built. Most new apartment projects continue to be developed primarily with studios and one-bedroom units.
So how can cities meet these needs and encourage the private sector to build affordable urban housing for families? Well, they can start by changing their parking policies.
Urban affordability and parking policy are closely connected. In urban apartment and condo projects, parking is almost always required, and because of the high price of urban land, typically that parking is provided underground. Below-grade parking costs up to $35,000 per stall, while in many places wood-framed apartments cost about $100,000 to $120,000 to build (excluding the price of land). That means that for every parking stall we don't require developers to build, we can save 25 to 35 percent of the cost of rent, right off the top.
So why do cities require developers to build parking and bundle it with apartments? Because people in surrounding neighborhoods don't want the residents of new apartments using up "their" street-parking spots. It's as if we were trying to get people to eat healthy affordable meals then forcing them to bundle it with an order of French fries because we don't want to upset the potato lobby.
If cities are really committed to affordable housing, they need to look harder at their land use and building code requirements—such as bundling parking with living space—that structurally raise the cost of urban life. If parking becomes more scarce as a result, cities could implement systems that require residents to pay for street-parking permits, such as those in Toronto and Boston. Properly priced street parking allows cities to generate more revenue, reduce subsidies for cars, and distribute street space more equitably among all residents—not just those who lived there first.
Another change that could dramatically increase the ability of families to live in the city is shared outdoor space that's both visible and easily accessible. Many newer apartment buildings are incorporating outdoor amenity spaces, such as shared roof-top decks, and this is a good start. But a roof-top deck that isn't visible from the third floor is ill-suited to families with school-age children, since they can't go out and play semi-supervised the way they would in the yard of a single family house.
One of the best urban forms that can adequately meet this need is called perimeter block housing, where row-houses are built continuously around a central courtyard. The kitchens and living spaces are on the ground floor facing the courtyard,allowing a free flow of children and parents between the indoor and outdoor spaces. The cost of perimeter block housing is very competitive with apartments and often less expensive than townhouses.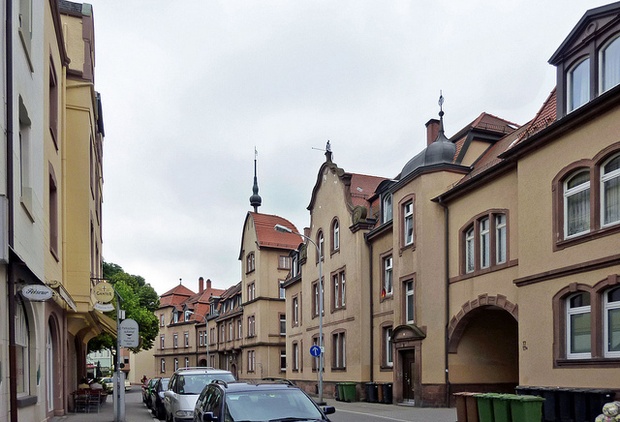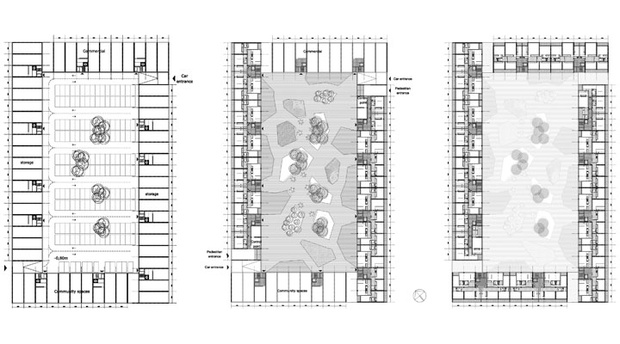 This kind of housing has been successfully developed in many European countries, but one of the main reasons the private sector hasn't built much of it in North American cities comes back to parking. Perimeter block housing doesn't accommodate vast parking lots, and building underground parking is prohibitively expensive, so any parking must be kept on surroundings streets. That's not a tough adjustment for Millennials (many of whom have never owned cars) to make, especially if the neighborhood is near transit service or a mixed-use walkable area. In other words, what's really limiting this type of housing is not necessarily parking demand but the minimum parking requirements imposed by cities.
Even in cities where the zoning does allow perimeter block housing, it's usually grouped with dense residential buildings rather than with single-family zones, which it more closely resembles in typology, demographic, and customer demand. In practice, this means that two- or three-story, small-footprint perimeter block housing can only be built in zones where four- or five- or six- story apartment buildings are also allowed. Given a certain cost for the land, it will always be more profitable to build to the maximum height and density in these zones, thereby making perimeter block housing the least profitable option. Allowing perimeter block housing within single family zones, where it would be the most profitable form in that zone, would result in much more of it being built.
So if cities truly want to encourage more close-in housing that's affordable to middle- and working-class families, both now and in the future, parking and zoning policies are the place to start. The challenge for growing cities in North America is great and the demand for urban housing is only likely to increase while infrastructure dollars are on the decline. Cities can't solve the affordability problem with just taxes or public dollars—they need to change the rules of the game to allow more housing to be built that truly meets the needs and wants of today's families.
This article is part of 'The Future of Transportation,' a CityLab series made possible with support from The Rockefeller Foundation.