In Charlotte, North Carolina, people who have a history of homelessness, as well as physical or mental disabilities, can get their own apartment at a non-profit-run, 85-unit complex called Moore Place. The development runs on the "housing-first" approach to homelessness: give people the keys to their own residence, then try to resolve the issues that led them to lose their homes. The model essentially flips a more longstanding approach that many people call the "treatment-first" model, which focuses on fixing the problems before providing the housing.
Despite its limited applications, the housing-first approach has been successfulin a number of cities, and a new study suggests Moore Place is no exception. Researchers at the University of North Carolina-Charlotte report that not only do housing projects like Moore Place dramatically help the homeless population, but they also help cities save money and free up civic resources.
 "Putting a person in housing as an early step in the intervention process actually creates a foundation for health and well-being and for them to actually begin to address the issues that they've struggled with over time,"
Lori Thomas
, a professor of social work in the College of Health and Human Services at UNC-Charlotte, tells CityLab. "It really upends the model that we've used for so long."
Some Cost and Many Benefits
At Moore Place, it costs around $14,000 per year to house someone. About 30 percent of this cost comes from tenant incomes. The rest is covered by donations and public funding, the new report explains.
The positive returns have been quite dramatic. A study team led by Thomas surveyed Moore Place tenants four times: right when they moved in, then at six months, a year, and two years later. They found that, after two years, 81 percent of tenants who participated in the survey remained in permanent housing. Before they'd moved into Moore Place, these tenants had been homeless an average of 7 years.
Not only did Moore Place tenants maintain the roof over their head, but their relationships with the health care system started to change, Thomas explains. Two years into their stay, emergency room visits and hospital visits decreased by 81 percent and 62 percent, respectively (below, top); they also used the county medics 76 percent less. Their total hospital billing decreased by $2.4 million—that's a 70 percent reduction (bottom).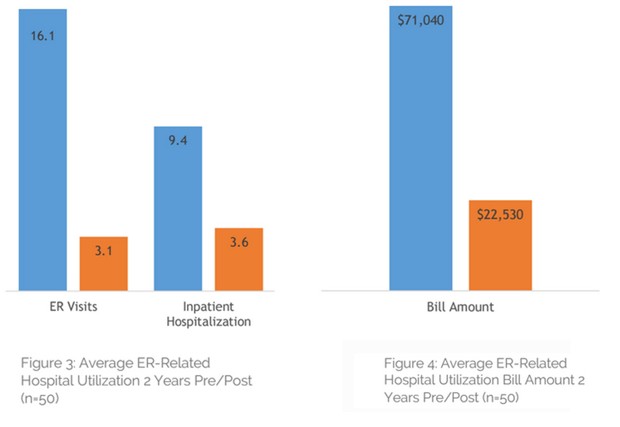 When they did go to the hospital, Moore Place tenants did so in an outpatient setting, which Thomas says is a "more efficient use of funding." They were also better able to pay for the medical services through third-party sponsors (usually Medicaid) rather than having the hospital system and the community bear the cost of treatment, she explains. Here's a chart from the study showing how outpatient visits increased over time and ER visits dropped: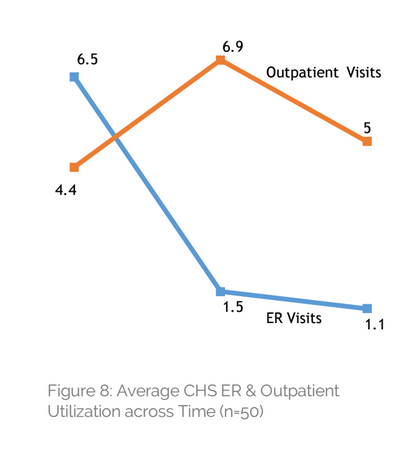 The study also found that since Moore Place residents stayed off the streets, they stayed out of jail. Arrests for petty street offenses and small crimes decreased by 80 percent, and nights in prison came down by almost 89 percent.
This Isn't The Only Successful Housing-First Program
As far back as 2001, researchers at the University of Pennsylvania declared that providing housing to the homeless is a "solution that can pay for itself."Seattle, for instance, saved a lot of money with its housing-first program for recovering alcoholics. The Pathways to Housing program, which started in 1992 in New York City and was one of the initial housing-first programs, saved the public up to $42,893 per year, according to a 2011 report.
Utah and Colorado have also seen dramatic success. Utah has seen almost a 90 percent decrease in homelessness since its implementation of the housing-first model in 2005, the Christian Science Monitor recently reported. Colorado'shousing-first programs report a 96 percent rate of home-retention. Both states have also saved a lot of money. Here's the New Yorker's James Surowiecki to explain:
Homeless people are not cheap to take care of. The cost of shelters, emergency-room visits, ambulances, police, and so on quickly piles up. Lloyd Pendleton, the director of Utah's Homeless Task Force, told me of one individual whose care one year cost nearly a million dollars, and said that, with the traditional approach, the average chronically homeless person used to cost Salt Lake City more than twenty thousand dollars a year. Putting someone into permanent housing costs the state just eight thousand dollars, and that's after you include the cost of the case managers who work with the formerly homeless to help them adjust.
Still, the housing-first model still has its opponents, partly because people assume that "housing-first" means "housing-only," Thomas says. That's not the case. Many Moore Place tenants still work with social workers, therapists, and medical workers. But this help comes after their housing arrangement has been sorted out.
The other problem is flipping the way homelessness services are traditionally provided—help first, home second—isn't easy.
"You're making the assumption that a person needs to get sober, and be compliant on their medication, and get a job before they can become stably housed, and then you have a model that says, 'No, you really don't, you can work it the other direction and have much better outcomes,'" says Thomas. "When funding and entire program structures are based on those assumptions, it's really hard to change it."