It's like Yoda once said: "Size matters not."
Put aside for the moment the size of the units in Carmel Place, a new multifamily housing development that just went up in New York City. Here are a few numbers that matter more than the square footage: Carmel Place is a nine-story development that includes 55 units. Of those, 33 units are designated market-rate; eight of the 22 units slotted for affordable housing are reserved for very-low-income renters.
Sounds good, right? Moreover, as Co.Design notes, the building's designer, nArchitects, didn't skimp on the details. These prefabricated units come with hardwood floors, storage lofts, Juliet balconies, the works—everything you'd expect from an upscale housing development in Manhattan.
So what's all the fuss? That last detail—the average unit size—was hard fought. Under former New York Mayor Michael Bloomberg, the city waived a zoning rule that required apartments to be no less than 400 square feet in size. The building is the winning design for adAPT NYC, a program to build a pilot for prefabricated micro-housing in New York. Units in Carmel Place range from roughly 250 to 350 square feet, and the market-rate ones will rent for up to $3,000 per month.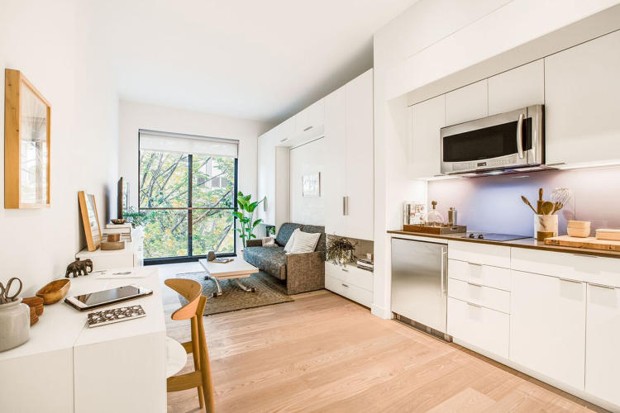 Micro-apartments are finally starting to arrive. There are (at least) 11 different micro-apartment developments in the works, according to a report from Curbed, from the Ivy Lofts in Houston to the Patterson Mansion in Washington, D.C. Or put another way, there are a dozen new apartment buildings headed for markets where some buyers or renters appear to want to live in them.
The problem is that some other buyers or renters in those markets do not want people buying or renting units in these buildings. That's why a story that otherwise overwhelmingly showers the Carmel Place project with praise takes such a grim headline ("Micro Apartments: Utopia or Dystopia?"). Taken broadly, residents who dread micro-housing fear that micro-units will displace family housing, that young renters will overwhelm available infrastructure, or even—as The Atlantic suggested in 2013—that micro-housing poses a health risk to inhabitants.
But the NIMBYs are wrong about micro-apartments. The people who fear micro-housing mistake the symptoms of the disease for the cure.
When renters can't find individual units, they take up family units
Families often complain that there isn't enough housing to suit their needs, especially for large families. They're right. In Seattle, for example, just two percent of market-rate apartment units have three or more bedrooms, according to a 2014 report by the Seattle Planning Commission. The last thing that these families need—especially low-income families and larger families of color—is to compete with single, young professionals for that limited housing stock.
Yet zoning for approximately 65 percent of Seattle's land area is designated single-family, meaning that the options across much of the city are restricted to what's already been built. That's good news for incumbent homeowners, but bad news for people who want to move to Seattle. The city's not an outlier in this regard, of course: Low-density zoning spurs young renters to rent group houses (or "stealth dorms" as the case may be) all over the nation. It's not a hard and fast rule, but when single renters can't find good options in a growing job market, chances are that renting families won't find them, either.
"As supply-and-demand skeptics are fond of pointing out, real estate is not an undifferentiated commodity, but in fact is a variety of products tailored to a wide range of tastes and requirements," writes Martin H. Duke of the Seattle Transit Blog. "The housing shortage cuts across all parts of the market, but it's hardest to see a simple solution for large households," he adds.
And that's right—except that single renters do not differentiate between housing that is "for" them and other housing that is "for" families. One way to ensure that the housing market meets the demands of both is to permit zoning that allows cities to meet more kinds of demands—and in the context of the ongoing affordable housing crisis, that means upzoning.
Banning micro-units doesn't make them go away
Take a tour of San Francisco's bunk-bed listings for a vivid illustration of the point. In a very extreme shortage of affordable housing, renters may (apparently) make the transition from group houses to group bedrooms.
Incidentally, making sure that housing is legal, affordable, regulated, and, well, available is one way to guarantee against any truly adverse health effects from shared living. The alleged increased health costs specifically associated with micro-housing … well, I don't want to say that they're not bad. But they can't be any worse than the health costs of unaffordable housing. It's arguable that the stress of unsafe, uncertain, or unsustainable living situations—housing insecurity, as the Centers for Disease Control and Prevention puts it—outweighs the potential crowding-related stress of micro-apartment living.
And if it's true that 30- and 40-year-olds respond poorly, psychologically, to sharing common spaces (I do), then one way to guarantee against such dire ends is to permit the kind of zoning that meets demand so that they aren't competing with 20-year-olds for housing in the first place.
Micro-housing isn't a trend in search of a problem
Mark Hogan, a San Francisco–based architect, made an invaluable contribution to the culture earlier this year when he posted the dispositive case against shipping-container housing. A brief gloss: Acquiring or proofing existing shipping containers isn't as cheap as folks might guess, and it's not cheaper than manufacturing prefabricated housing units. The work it takes to turn shipping containers into housing fit for humans makes this option cost prohibitive. And while they may look cool in renderings, they're not sized for living spaces for people.
Hogan's critical point is this one: "Housing is usually not a technology problem." It's not as if shipping-container homes improve upon normal homes or that normal homes have some fault that shipping containers don't. The issue is that shipping containers are a trend that appears (quite mistakenly) to be a type of free housing that we are ignoring or a type of improved housing that we never had before. Neither of those things is true.
It's certainly the case that micro-housing looks trendy, in part because it is presented in savvy renderings by smart architectural firms such as nArchitects. But micro-apartments are also not a type of new housing we've never seen before. They're apartments. Advances in technology and interior design make micro-housing possible without requiring that micro-apartments be tenements, boarding houses, or single-room-occupancy hotels. But the concept of multifamily living is preserved (even if the division of amenities changes).
Further, shifts in demographics—and in justice, labor, technology—make multifamily housing more desirable than the detached homes once sought by nuclear families. Or, if not more desirable, then fairer and more sustainable. Micro-housing is neither a utopia nor a dystopia. It's just creating smaller-scaled places for living that suit the times.