There's a bit of a house-of-mirrors quality at Open to the Public: Civic Space Now, at the AIA New York Center for Architecture in New York City's Greenwich Village through September. From the outside, at LaGuardia Place, you peer in and see an umbrella-capped hot dog stand, a Citibike, and a wrap-around mural of Times Square. Step inside, and you'll find the perfect backdrop for a selfie that makes it seem like you're on the crowded steps of the Metropolitan Museum of Art. This is an exhibit about public space, in a public space, with public space outside, all around. This reflection on an essential ingredient of cities requires a moment of orientation.
The very notion of public space, a subject largely reserved for design professionals until about a decade ago, is a hot topic today. The threshold event that pushed it into popular consciousness was probably 2011's Occupy Wall Street encampment in Lower Manhattan's Zuccotti Park—a privately owned public space, just to add another level of complexity. Worldwide, the protests in Tahrir Square in Cairo that year also underscored the connection between place and public discourse, with all the mobilization power of social media mixed in. In recent years, the practice of guerrilla urbanism—taking over parking spaces or entire streets for mini parklets, spontaneous art displays, and chair bombings—has further changed the definition and understanding of public space and its function.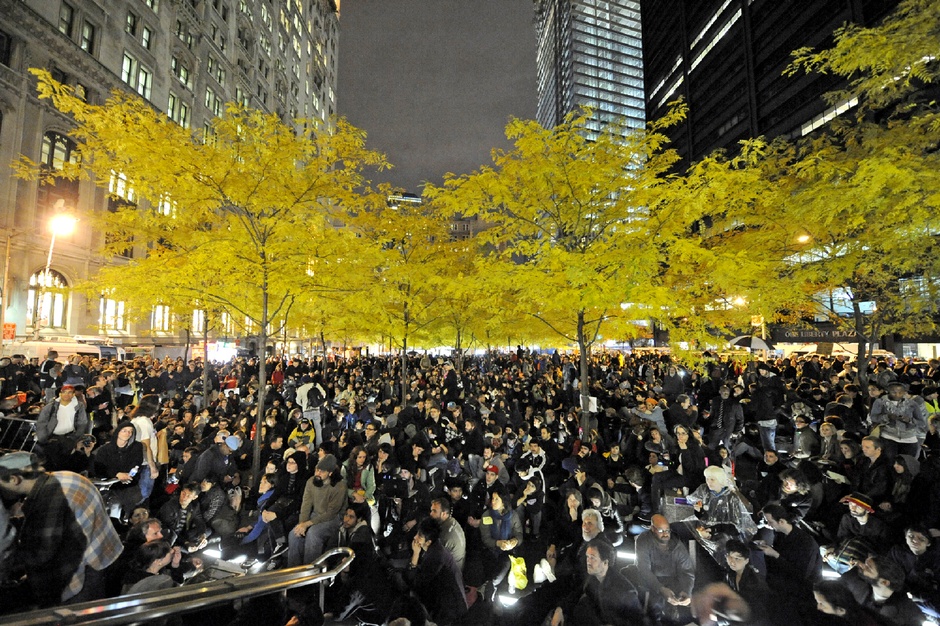 Cities are the story of the century, as New York Times architecture critic Michael Kimmelman noted at a Radcliffe Institute lecture earlier this year, and public space is central to civic health. All of this new attention to the design and character of public space is thus quite welcome, but there are all kinds of thorny questions marbled in: rules and regulations, free speech, access and equity. Is the pedestrian zone of Times Square mostly for tourists? Who are the best new public spaces actually being designed for? A park is no longer just a park; as a stage for the theater of public life, it's become more complicated.
The AIA New York exhibit attempts to make sense of its subject by organizing public space into three basic categories: congregation, circulation, and contemplation. The latter is perhaps the easiest to understand: The serene new Four Freedoms park at the tip of Roosevelt Island on the East River in Manhattan, a completion of a design by Louis Kahn, is open to anyone who can get there.
Anyone who walks the sidewalks of New York realizes how much of the city's life is played out in public. The way that space gets used can seem accidental as much as intentional, from the High Line—the infamous transformation of an elevated railway into a linear park—to the benches at either end of the planted medians along Park Avenue. The steps of the Met were probably not specifically designed to accommodate the hundreds of visitors who hang out there every day, but that lingering has become a signature of the place.
No curator can cover everything in one show, but if this exhibit has one shortcoming, it's the lack of recognition of guerilla or tactical or pop-up urbanism. From San Francisco to Dallas to Portland, Maine, that's really where the action is lately regarding public spaces. It might have also been interesting to delve into the latest cutting-edge thinking on shared space espoused by such thought leaders as urban designer and movement specialist Ben Hamilton-Baillie, who takes former New York transportation commissioner Janette Sadik-Khan's Times Square model a step further by removing all traffic lights and warning signs. The implementation of the Dutch concept of the woonerf, which prompts a blending of automobile, bicycle, and pedestrian movement, turns streets into a new kind of public realm based on eye contact and common courtesy. The resulting ballet is seen in such places as Poynton and the Seven Dials intersection in England.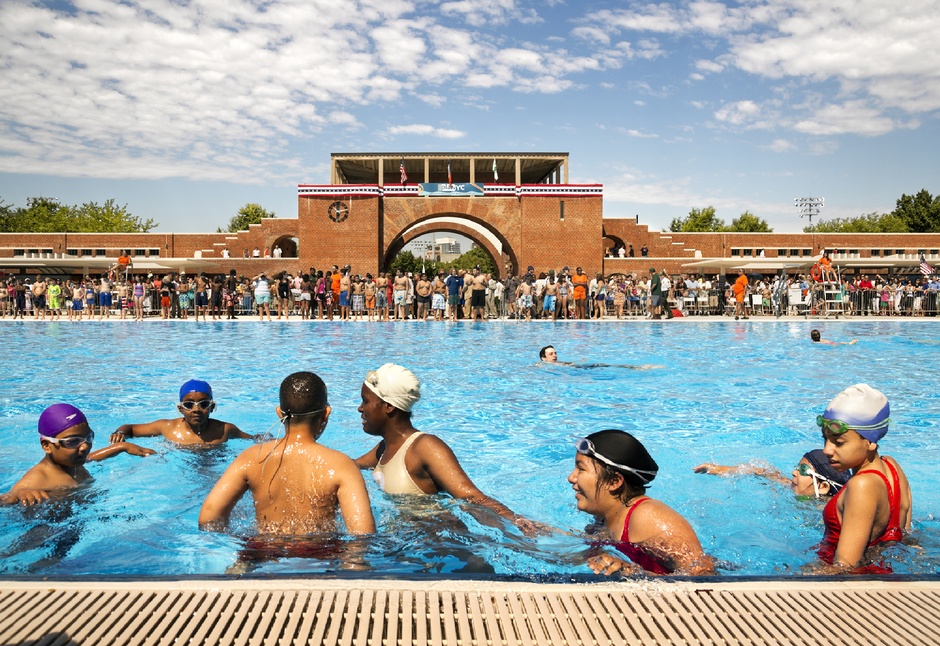 The exhibit looks back as well as forward, and includes the recently rehabilitated McCarren Pool, a New York City public works project of Robert Moses. And when you walk out of the center, the sometimes tortured history of placemaking is all around. The high-density towers of urban renewal are right across the street; the gardens and ground-floor shops of the Washington Square Southeast development are reasonably active. Then of course there's Washington Square Park to the north—a public space functioning about as well as any urbanist could imagine. The park's fountain is working (thanks to a private benefactor, the Tisch Foundation), people strum guitars, kids run every which way, and the park's famed monumental arch lords over everything.
Nearly a half-century ago, Jane Jacobs fought Moses' proposal to run Fifth Avenue through the greensward. Back then, nobody was openly talking about free speech or democracy movements or whether homeless people should be allowed to congregate there. It was more about mothers and strollers. But it was contested space, as so much of public space in the city was. And remains.
Top image (clockwise): Times Square photo courtesy Francisca Sumar, CityBike photo courtesy Stephen Mallon, Brooklyn Bridge Park photo courtesy Julienne Schaer, Bronx Community Garden photo courtesy Landgarden.