Everyone should be thrilled that the Underground Museum in Los Angeles is screening 7 Fragments for George Méliès. It's an animation installation by William Kentridge, a fantastic artist, but that's not the reason people should be pumped—or not the only one. No, what's so great about 7 Fragments is that it's a Museum of Contemporary Art show—featuring an artwork from the Museum of Contemporary Art collection—that's not on view at the Museum of Contemporary Art.
Let Carolina A. Miranda explain. In the Los Angeles Times, she details the unlikely collaboration between the Underground Museum and MOCA that has made 7 Fragments possible. MOCA is one of the most visible visual-art institutions in L.A., if not the nation. The Underground Museum, by comparison, is invisible.
"For the next three years, the Underground will feature a series of exhibitions, curated by [founder and painter, Noah] Davis, that will be drawn from MOCA's permanent collection—placing important works of art in a largely working-class black and Latino neighborhood at the heart of Los Angeles," Miranda writes.
There isn't a city in the country that wouldn't benefit from such a program: a non-museum space for showcasing museum-collection works. There isn't a museum anywhere that couldn't use to expand its reach and viewer base. A farm league for museum exhibitions and curators would do the entire art world some good. Experimental satellites are an idea whose time has come.
Around this time last year, Miranda was writing about the effort by L.A. Mayor Eric Garcetti and other leaders to lure a museum to the city that would house the art collection of George Lucas. Several cities—namely Chicago, San Francisco, and L.A.—were locked into a downward spiral to see who would give away the most to secure Lucas' support. Miranda wasn't on board, namely because Lucas' art collection sucks. Against the prevailing sentiment (or at least the mayor's), she launched the #WhyLucasNOTinLA campaign.
Arguably, L.A. has enough museums as it is—as do many cities. Over the past two decades, the nation as a whole has undergone an extraordinary cultural building boom. As Joanna Woronkowicz, D. Carroll Joynes, and Norman Bradburn explain in Building Better Arts Facilities, most large metropolitan statistical areas have erected new facilities within recent years. During one narrow window (2000–2002), 87 percent of MSAs with a population of 2 million or more launched new cultural buildings. About one-third of small MSAs (population 500,000 or fewer) did the same, per a report by authors for the Cultural Policy Center at the University of Chicago.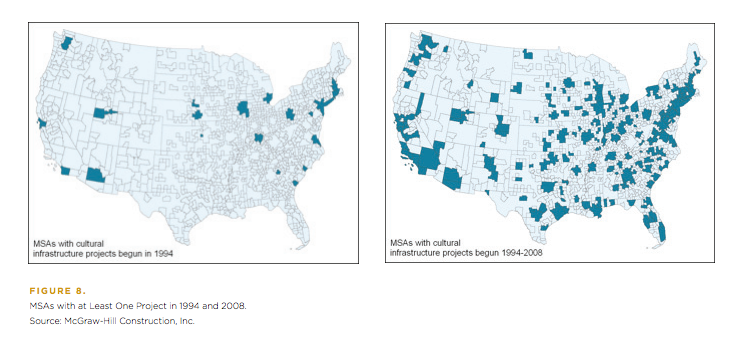 Not all of these projects have served cities well. For one thing, the costs for building museums, theaters, and performing-arts centers increased during the boom leading up to the collapse of the dot-com bubble. While those costs have since relaxed (more recent data aren't available), the costs for building museums outstrips almost any other kind of building project. And in the wake of the recent recession, the construction industry as a whole is smaller, meaning construction costs in the U.S. are rising.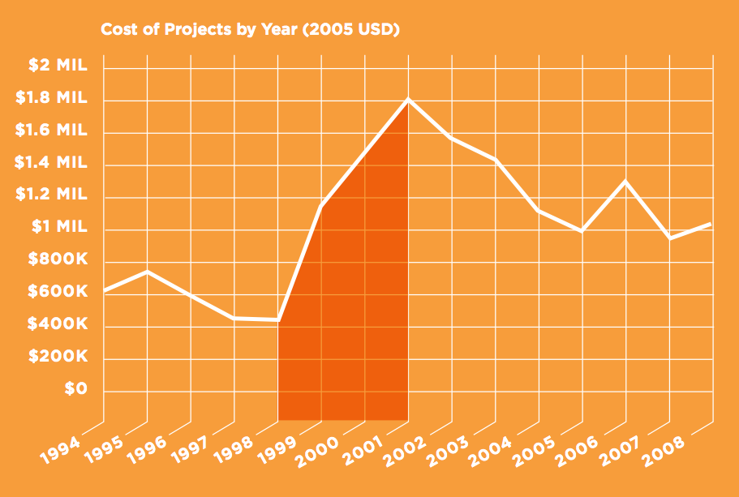 But there's an argument to be made for launching satellites instead of adding expansions no matter what the cost of construction is, especially with regard to contemporary art. Any museum you care to name has more artworks than it can ever show and a challenge in reaching various communities—any museum.
The answer is right there: Take the artworks out of storage and put them into those communities.
While it might sound obvious in an era that has seen restaurants have to seriously compete with food trucks (and even launch their own), museums haven't quite learned to see past the brick and mortar. The Museum of Modern Art boasts some 200,000 works of art in its collection, but instead of reaching further into New York City—the way it did when it absorbed MoMA P.S.1 in Queens in 2000—the museum is betting hard on its tourist-trap mall location in Midtown.
For most museums, the situation is even bleaker, since most of them can't claim a P.S.1 of their own. Fortunately, the Underground Museum and MOCA in L.A. have shown the way: Hungry curator, disused space, underserved community, untapped artwork. There is no major city where this won't work. There is no museum that can't make bread with this recipe.